Baking up the wrong tree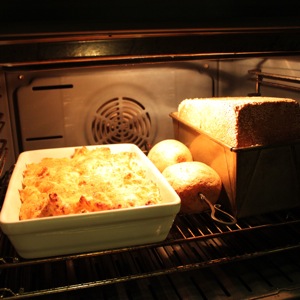 On Sunday mornings my dad likes a croissant. Warm from the oven.
One oven. One croissant.
I love dad, and I love warm croissants but this challenges my notions of energy efficiency – basically because it is not at all. Dad just wants a croissant for breakfast and I want to use all that pent-up oven–energy and go baking mad.
And this is where the problem begins. While the oven is on why not use it - make a pie, roast some beetroot, bake some biscuits, a loaf of bread, invite friends over for lasagne and then, in the residual heat, make meringues and dry your socks. All for the same energy that it takes to heat up one croissant.
That is my theory but I it never runs like that.
It has a soundtrack from some modern composer, discordant and disorganised.
My oven cook-ups turn into a crazed messy mess. What could have been a delightful Sunday breaky or a 1 hour relaxed and enjoyable bread baking activity turns into 3 hours with mess, flour, vegetable peelings, eggshells, babies chewing on dangerous items and me struggling to dig in to my moral high-ground.
And I certainly don't save energy. I am exhausted by the end of it and the oven has been on for hours.
I have just done a similar cook-up.
Potatoes in jackets
Roast pumpkin for soup/pizza topping
A loaf of bread
Macaroni cheese
It was a bit planned but still ended in chaos so I have taken a step back to not be so obsessive about the oven and take the time to enjoy the croissant.
Never let it be said that I am not against direct action but it is not actually that efficient.