How to clean your oven without fumigating yourself.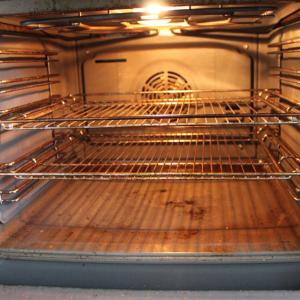 I am not a fan of cleaning at the best of times but my least favourite cleaning job would have to be the oven.
I haven't done it for 18 months. The last time was when we left out previous rental house.
I know there are products that you can spray around but the toxic fumes generated from the the likes of Monsieur Muscle send me coughing and spluttering.
People always talk up the wonder of microfibre oven gloves. I am a big fan of the technical fabric but the muscle power and patience required with this method also make me a little mad.
What works well, most of the grime-time, is this paste of bi-carb and water.
It works as a bi-carb mixed with water forms very weak base. This reacts with the carbon burnt onto your oven and cleans it up. It is cheap and not to arduous but does require some persistance.
Here be the recipe. Give it a go. No suprise that it contains bi-carb soda. I suspect this is soon going to be more valuable that gold!
Oven Cleaning Paste
Mix some bicarb-soda and water up into a thick paste.
Lather it on thickly (5mm is good) on all surfaces of your oven - works even better if your oven is warm and has had a bit of steam in it (a pan of hot water works well - parhaps after cooking baked custard!)
Leave the paste overnight.
Wipe off in the morning - it may require some scrubbing or scraping with a egg-flip.
For baked on grime that will not lift, reapply the paste making sure to keep it moist.
Wipe off with a damp cloth.
Paste can also be used for stove-top grime.
For any truly baked on grime that just will not come off I suggest closing the oven door, sitting down with a cup of tea or better still something that fizzes but doesn't contain bi-carb and vinegar.