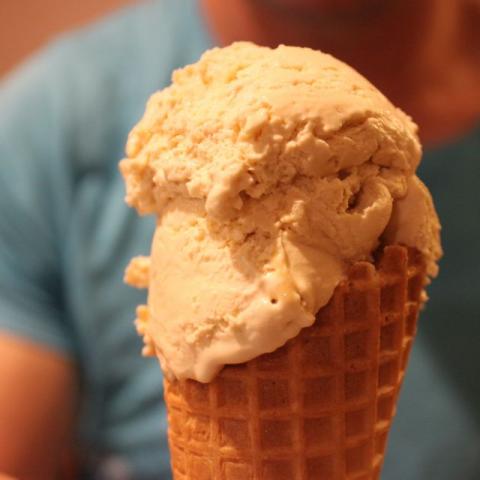 This ice-cream is the easiest, creamiest and most delicious thing. No crazy churning, no freaky custards, no time-wasting machinations - just 4 ingredients and 5 minutes is all it takes to make. And HEALTHY! It's like egg-nog, only colder!
Ingredients:
3 very fresh eggs from happy hens (the eggs will stay raw so make sure they are fresh and clean)
3/4 cup - 1 cup light brown sugar (sugar is a bit like an anti-freeze. The more you have, the softer and sweeter it is)
600ml single pouring cream
1 tsp vanilla (or 'design your own adventure' flavour*)
Method
Beat whole eggs in a mix-master on high for 3 minutes or until really light and fluffy, pale and creamy.
Add sugar to eggs. Beat from another 3 minutes on high until fully fluffed and sugar dissolved through the mixture.
Pour into a container - I use the same one that I will finally freeze the ice-cream in.
Pour cream and vanilla into mixer bowl (no need to wash it but mum says you should) and beat on high until thick (but before it has turned to butter. We want ice-cream, not ice-butter).
Return egg and sugar  to mixer bowl with whipped cream. Gently fold the two together until all mixed. 
Pour into container and freeze - it's good soft after 5 hours or hardtable ice-cream. It's good soft after 5 hours or hard after 8.
Makes about 1.5L.
*My grann used to make rhubarb crumble ice-cream. Cold stewed rhubarb and a baked crumble topping (a bit like grann-ola only buttery) would be lightly folded through the ice-cream before freezing. Chocolate brownie and raspberry is also excellent as is salted caramel and coffee ... the list does go on.