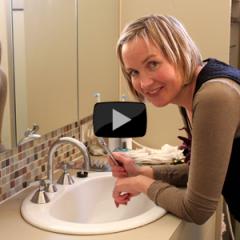 Dripping taps are a form of madness-making music and can waste heaps of water and energy if it is the hot water tap.
Tap into your inner plumber and fix it in a flash.
This GIY video shows how to fix a vandal-proof tap. There are many differend types of tap but most are the same underneath. The process of changing the valve/washer is all the same once the 'headgear' (tap) is off.
It doesn't show you how to fix a mixer (ceramic disc) tap.
TRICKINESS RATING: Moderately easy