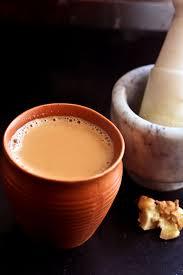 This delicious warming blend of spices is easy to make yourself. The secret is in the use of cardamom ... and for a true masala chai, you have to bring the milk to the boil..
Ingredients
1 1/2 cup water
6 whole green cardamom pods, bruised with mortar and pestle
3 thin slices fresh ginger
1 cinnamon stick
2 star anise
2 peppercorns (optional)
2 cloves (optional)
1 3/4 cup milk
3 teaspoons loose black tea leaves or 2 tea-bags
Sweetener, to taste (I prefer honey or maple syrup)
Method:
In a small saucepan, combine the water, cardamom, ginger, cinnamon stick and star anise. Bring the mixture to a boil then lower the heat and simmer for a few minutes until the mixture is fragrant. Add the milk and tea leaves, and simmer for another minute then turn off the heat and let steep for 2 minutes. Pour through tea strainer. Sweeten to taste.