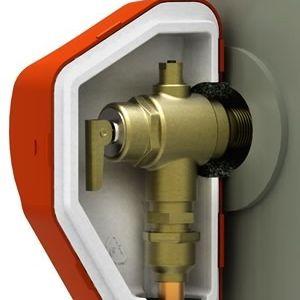 Hot water systems can one of the biggest energy users in your house, especially if it's a giant electric storage system and/or you've got people who seem to get trapped in a hot-water soaked stupor when they are in the shower.
It makes sense then that you insulate the tank and pipes to keep that precious and expensive hot water in and not let it all be lost to the cold winter air.
But can you insulate 'the works'?
Generally, the tank itself is fairly well insulated and you can insulate hot water pipes with 'lagging'  but the pressure valve on the side of the storage tank is a huge source of heat loss. It's essential that the pressure valve work and is able to release pressure from the tank if need be so you can't just wrap it up with any old home-made solution (a normal GIY approach!).
An Aussie innovation called the Valve Cosy is a small, easy to install unit that insulates the valve as well as ensures it can do it's job.
They've offered a few for GIY'ers to review.
If you have an outdoor electric or gas storage tank and would like to test, trial and tell-all about this product drop an e-mail to info@greenityourself.com.au including your location.
I'll choose by standard GIY random-selection methods using a complicated arrangement of sticky tape and fairy floss.
Open to GIY subscribers only. If you want to get involved, subscribe.
For more information and fine print check out About GIY and go to 'Product tests and reviews'
NB: Entries have closed for reviewers but subscribe to hear the results.